Content Uploader Pro 1.1 - Weblinks
Monday, 24 May 2010 14:53
Written by Peter Ader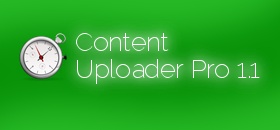 When it comes to populating your Joomla! site with contents, you won't find a match for the Content Uploader. Two noteable features have been added to the pro version. A new interface for uploading your web links as well as K2 support, which had been added to the prior release, now grace the list of features.
The configuration interfaces of the
Content Uploader Pro
(screenshots are also found here) have been built to resemble closely the interfaces, which you use to enter your contents normally. We have done this to make it as easy as possible to visualize where to add your spreadsheet column references.
Below you can watch our two videos that describe how to upload your content/k2 articles and your web links.
Note that there is a free version with a few less features. The pro version comes with either a 6-month or 12-month support subscription, which you can get here. With either one of these you can rest assured that we will help you get going if you get stuck.
So what are you waiting for? Start saving some time.
Last modified on Friday, 28 May 2010 10:47
E-mail: This e-mail address is being protected from spambots. You need JavaScript enabled to view it