Content Uploader Pro 1.3 Update - Joomfish
Monday, 05 July 2010 05:35
Written by Peter Ader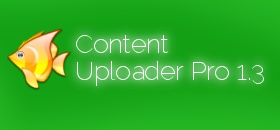 We have another exciting update of the Content Uploader Pro to announce. If you have found filling in the translations of your website via
Joomfish
to be cumbersome, then 1.3 should make you substantially happy. :) It comes down to creating a copy of your sheet inside your workbook, with the same structure, and just putting your translations in the corresponding fields.
Chris has recorded a video, which shows you exactly what you need to do to get your translations uploaded.
Get the free version of the Content Uploader to play around or use on your basic projects and when you are ready to do your translations you can upgrade to pro.
Last modified on Wednesday, 21 July 2010 15:12
E-mail: This e-mail address is being protected from spambots. You need JavaScript enabled to view it