You can use the services of sifrgenerator.com to create custom fonts but we recommend the following instructions for the best results in relation to file sizes and customization.
We recommend NOT to use opensIFR because it causes several problems for example not letting you change the font color.

To create a custom-font for JsIFR3 you need the sIFR3-files of the version that is currently used by JsIFR3 (r436): download here
Extract the archive to your hard disk and do not move single files to other folders/locations. Open the file sifr.fla with Flash8 Editor (Flash 8 Basic, Professional, CS3 or CS4).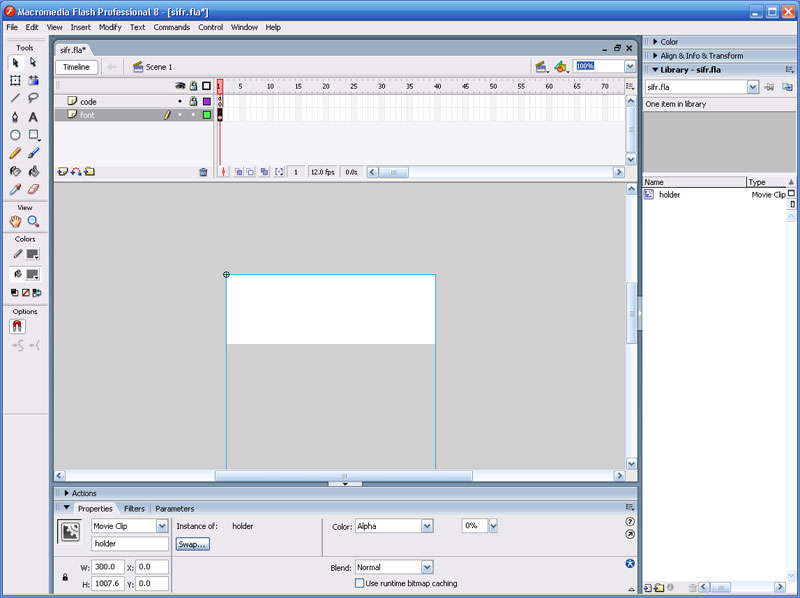 You see a white field in the middle of the screen. Doubleclick this field.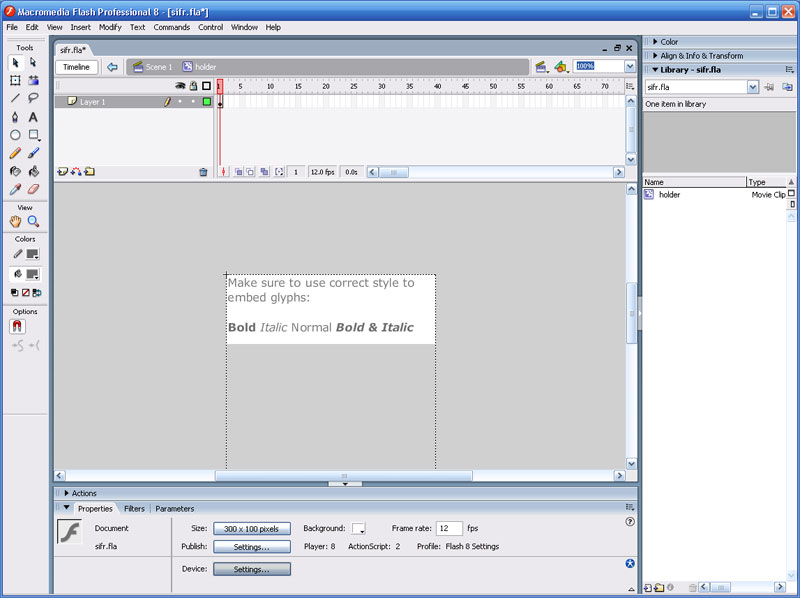 You should see some text like:"Bold Italic Normal Bold & Italic".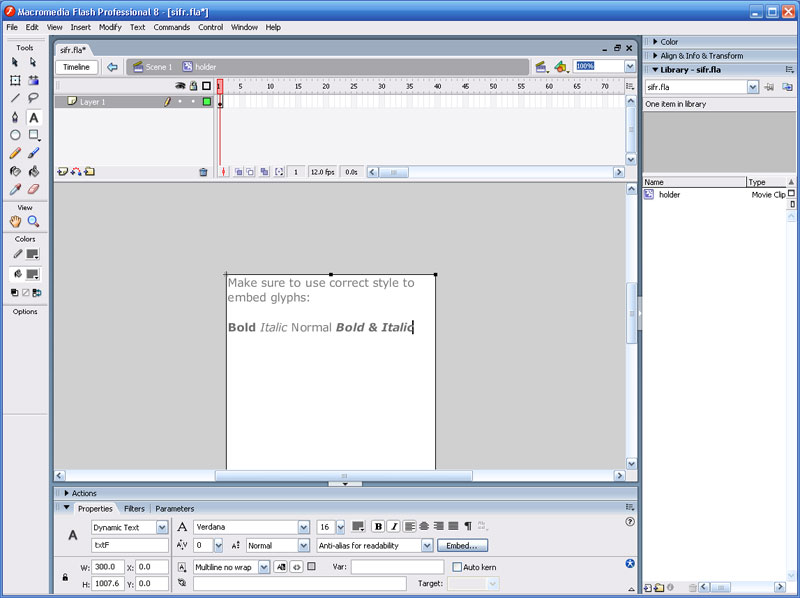 Doubleclick the text to activate the text editor. Then delete all text to keep the filesize as small as possible.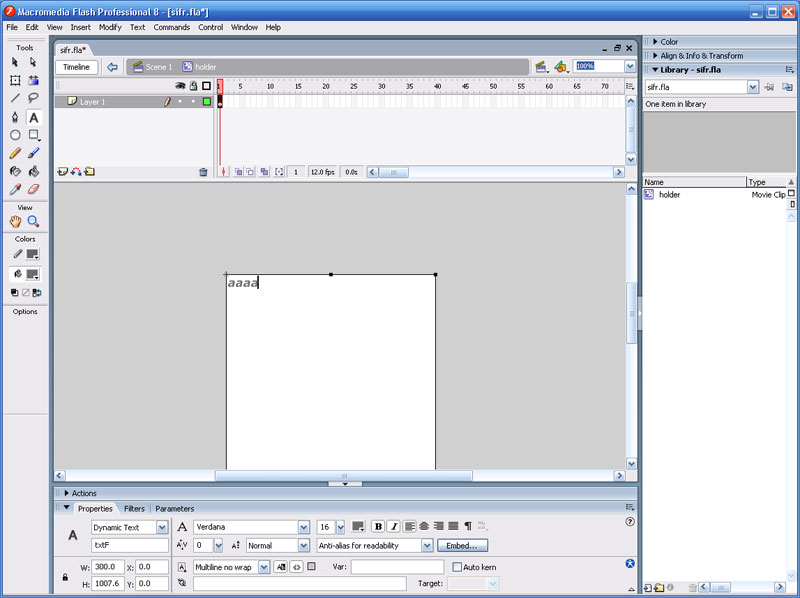 (For a maximum of compatibility in this tutorial we will create a font file that supports normal, bold, italic and bold-italic text. If you know that you will only use one of these you can omit the three other letters that we will create)
Type 4 letters, for example aaaa. (It doesn't matter which letters.)


Select all four letters and choose the font you wish to use.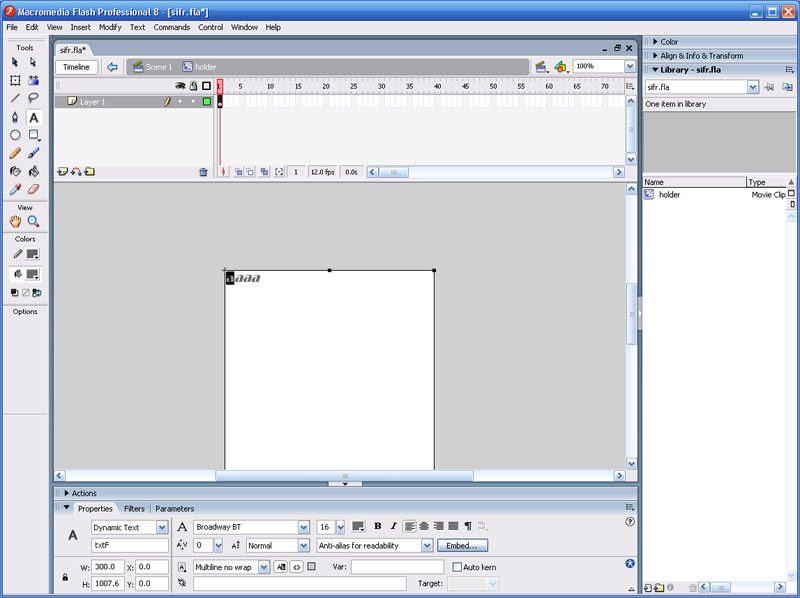 Select the first letter and toggle off bold and italics.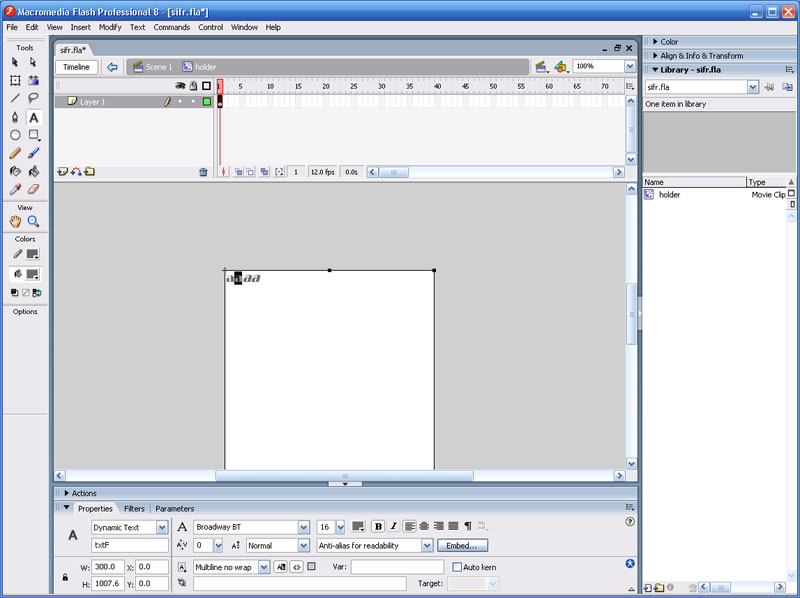 Select the second letter and toggle on bold, toggle off italics.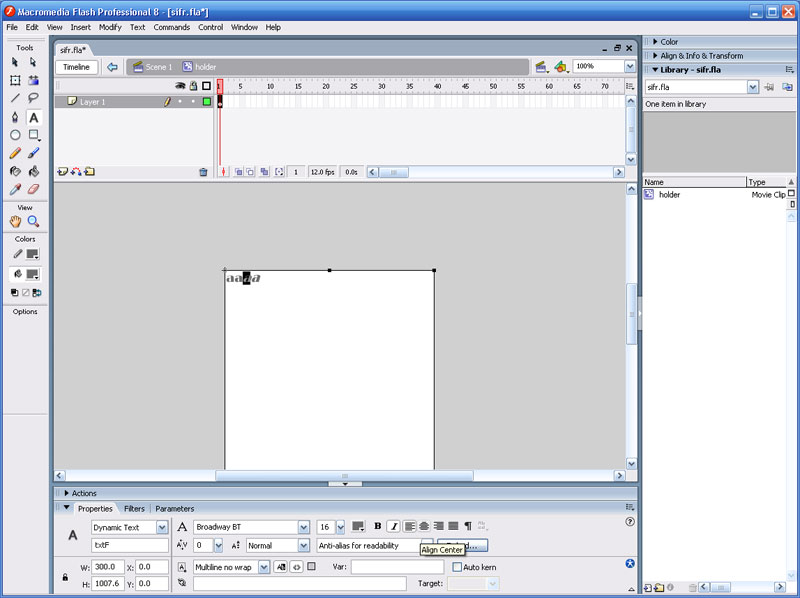 Select the third letter and toggle off bold, toggle on italics.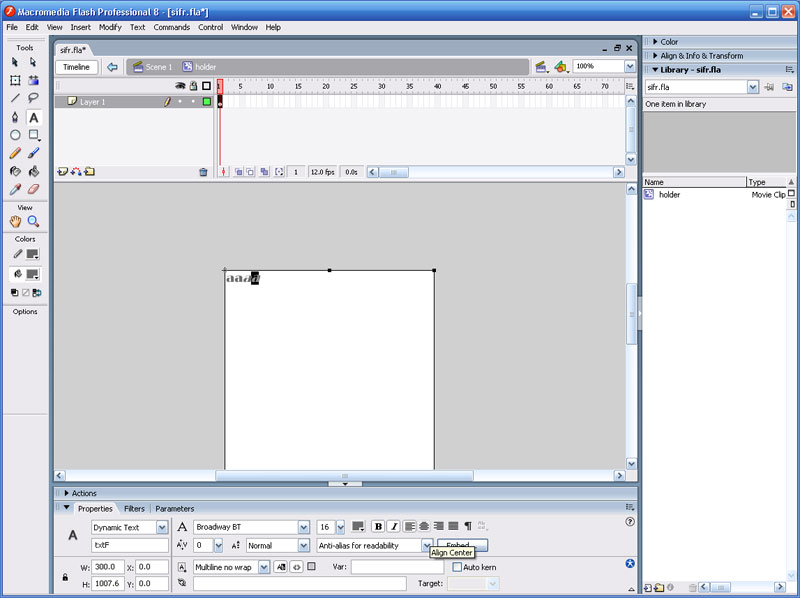 Select the fourth letter and toggle on bold and italics.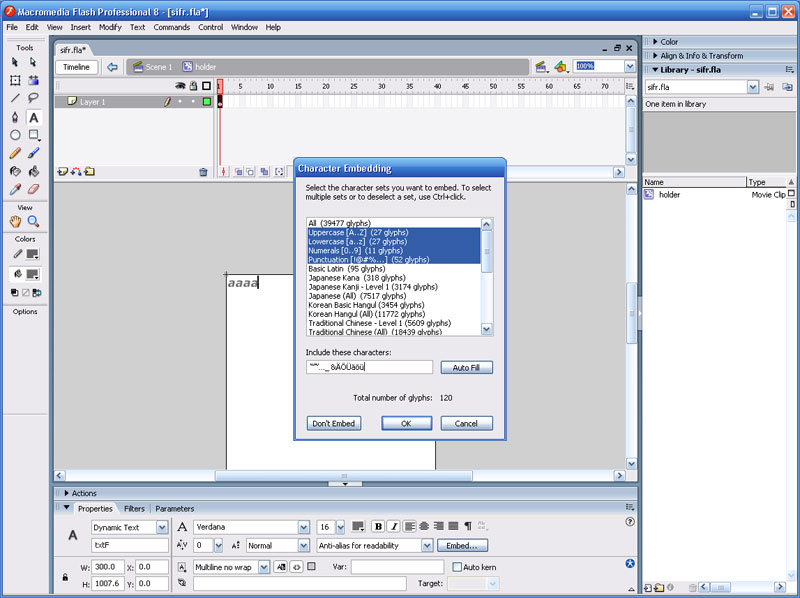 Special characters: If you wish to display special characters click the button "Embed..." and select charsets or type in additional characters in the field "Include these characters:" (for example ÄÖÜäöü or áéíóúàèìòù and so on). If your font does not support these special characters this setting will not help you. It just won't be displayed by JsIFR3.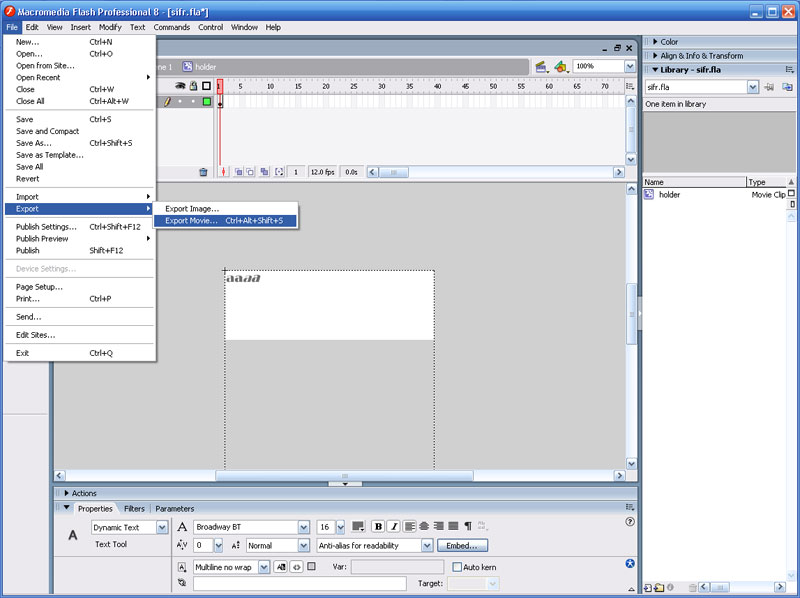 The next step is to export the file as flash-movie (File - Export - Export Movie).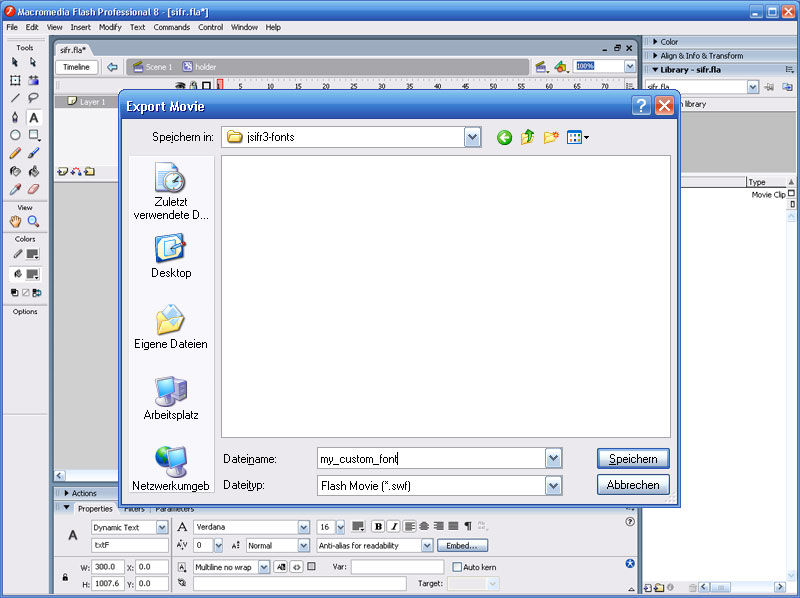 Select the destination and type in a filename. (This filename must be entered in the Joomla JsIFR3 settings as custom font. Make sure that you don't use hyphens (-) in the filename!) Click save to see the next options.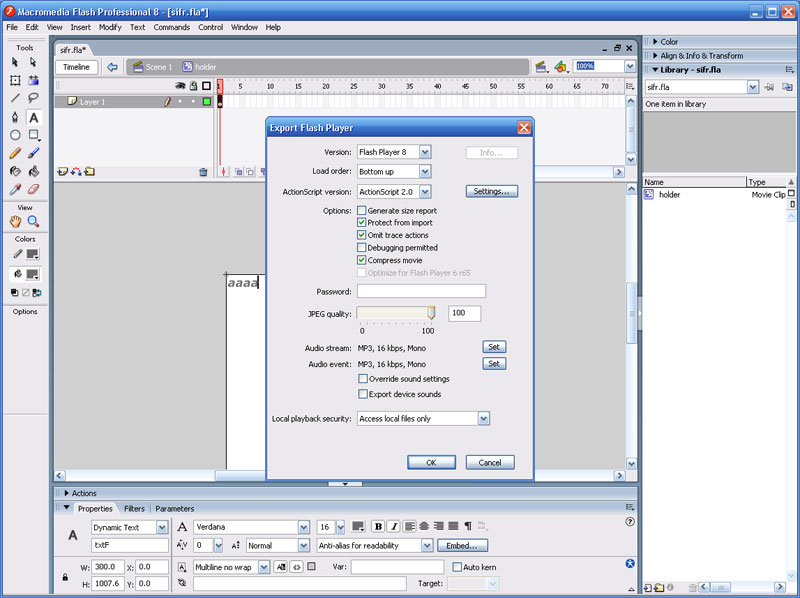 Here you need to do the following:
Version: Flash 8
Load order: Bottom up
ActionScript version: ActionScript 2.0
Protect from import
Omit trace actions
Compress movie
To improve the quality you can set JPEG quality to 100. (This won't have a measurable effect to the file size!)


You can select Generate size report to see which fonts and characters have been exported. If you only wanted to use a bold font and you see it has exported a normal font you have to repeat the procedure to make sure the normal font is not unnecessarily exported.
To activate the font you have to upload the file by FTP to the directory "~/plugins/system/jsifr3" (or "~/plugins/system/jsifr3_pro" for JsIFR3 Pro)  of your Joomla installation. Open the JsIFR3 plugin configuration and set: Font: custom , Custom-font: the filename (without .swf) you have given to your created font-file.