This module displays a top 10 list of Joomla! articles ordered by hits, article order or alphabetical. It is possible to display up to four tabs, which can rotate automatically at a defined amount of seconds.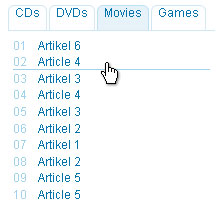 The rotation stops
as soon as the user selects a tab by hovering or by clicking.
Installation
It needs only a few steps to install the module:
Login to the Joomla! backend and click on Extensions - Install/Uninstall.
Select the module .zip file that you downloaded to your harddisk and click Upload File & Install.
After it installed successfully click on Extensions - Module Manager and select Jtop10 from the list.
On the Jtop10 configuration page select 'Enabled - Yes' on the left side and set the module position where you wish the module to appear.
Edit the settings on the right hand to fit your needs.
Click Apply.
Done!
Settings
Show title beside tabs: If set to yes it will display the module title beside the tabs.
Article order: Select how the tabs should be ordered: by hits, Joomla article order or alphabetical.
Number of tabs: You can use up to four tabs.
Tab title: Set the title to be displayed on the tabs.
Tab category: Articles from the selected category will be displayed in this tab.
Align tabs: Align the tabs to the left or right module border.
How to select the tabs: Tabs can be selectey by click or mouseover.
Use rotation: This will rotate the tabs every x seconds.
Stop rotation: This will stop the rotation as soon as the user selects one of the tabs.
Rotation delay: Wait x seconds befor the next tab will be activated.